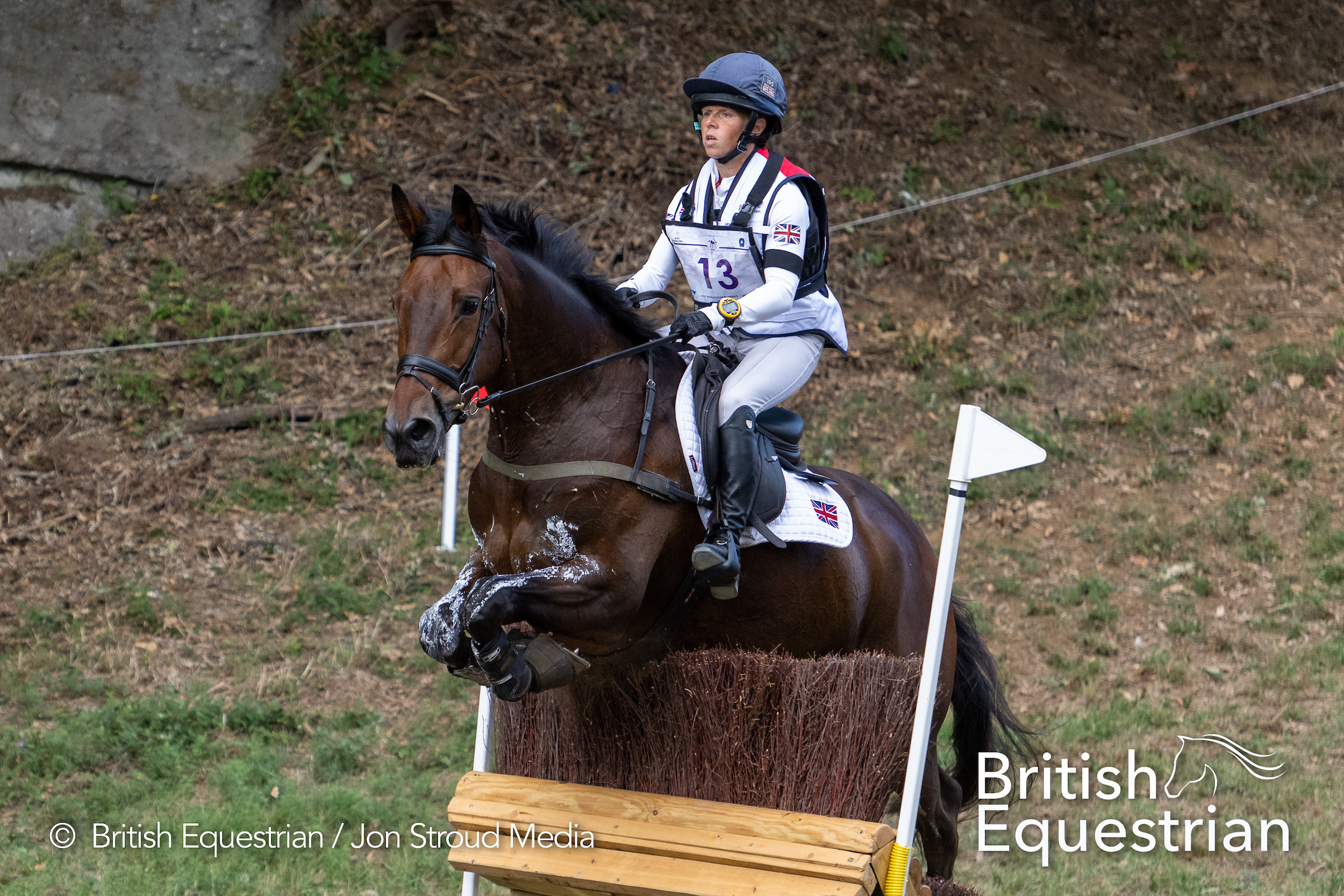 Ros Canter
Age: 37
Based in: Hallington, Lincolnshire
World ranking: 3
Ros grew up on her family farm in Lincolnshire, where she spent a lot of her time riding around the farm with her parents and two sisters. She has a degree in Sports Science from Sheffield Hallam University, where she also played first team hockey. Since 2011, she has been running her own eventing and livery yard.
Ros made her senior championship debut at the FEI Eventing European Championship in 2017, where she was part of the gold medal-winning team with Allstar B. Earlier that year, the pair finished third at Badminton Horse Trials.
In 2018, she and Allstar B were selected for the team travelling to the World Equestrian Games in Tryon. They put in a brilliant performance to finish on their dressage score, securing team gold and an individual gold medal. The pair were selected for the difficult role of travelling reserves for the delayed Tokyo 2020 Olympic Games, then went on to secure another team gold medal at the FEI Eventing European Championship in 2021.
Together with new partner Lordships Graffalo, Ros travelled to the FEI Eventing World Championship in Pratoni in 2022. The pair were foot-perfect to finish on their dressage score of 26.2 – the same score as bronze medallists Tim Price and Falco, who was placed ahead of them due to finishing closer to the optimum cross-country time.
Ros and her partner Lordships Graffalo started the 2023 season with a historic win at Badminton Horse Trials. They become only the third combination since 2008 to lead across all three phases, while Ros become only the fifth rider in history – and third British woman – to win both Badminton and the FEI Eventing World Championship.
Lordships Graffalo
Known as: Walter
Owner: Michele Saul
Colour: Bay
Sex: Gelding
Age: 11yrs
Height: 17hh
Bloodlines: Grafenstolz x Rock King
Breeder: Lordships Stud Writtle College GBR
Groom: Sarah Charnley
Walter has been with Ros since he was three years old – she produced him and has done everything with him since, so theirs is a well-established partnership. Tom McEwen briefly took over the ride while Ros was on maternity leave in 2019, then Ros came back and they went on to have two CCI4*-S wins in 2021 after a disrupted 2020 season due to COVID-19.
Walter burst on the top-level eventing scene at Badminton Horse Trials in 2022, when he and Ros finished on their dressage score to take the runners-up slot – despite him being one of the youngest in the field and there on his CCI5* debut. A successful season was capped off by a trip to Pratoni, where Walter showed maturity beyond his years to finish on his dressage score at his senior championship debut.
Walter returned to Badminton this spring with a legion of new fans. Hotly tipped from the outset, he and Ros produced one of their best ever dressage scores to take the first-phase lead, held it across the country in very demanding ground conditions, then jumped clear on the final day to finish 15 penalties ahead of the rest of the field – the greatest margin at a CCI5* event in recent history.
"A horse like him should be celebrated – I've never sat on anything quite like him," said Ros at Badminton. "He goes in and he loves it. He absolutely loves it. You know, the crowd could stand up and start stamping their feet, and he would just prick his ears up a little bit more and enjoy it a bit more. He's a beautiful horse to ride and I just think the world of him."
Personal bests
| CCI5* dressage | CCI5* finishing score |
| --- | --- |
| 26.0 | 26.00 |
| Badminton 2022 | Badminton 2022 |
---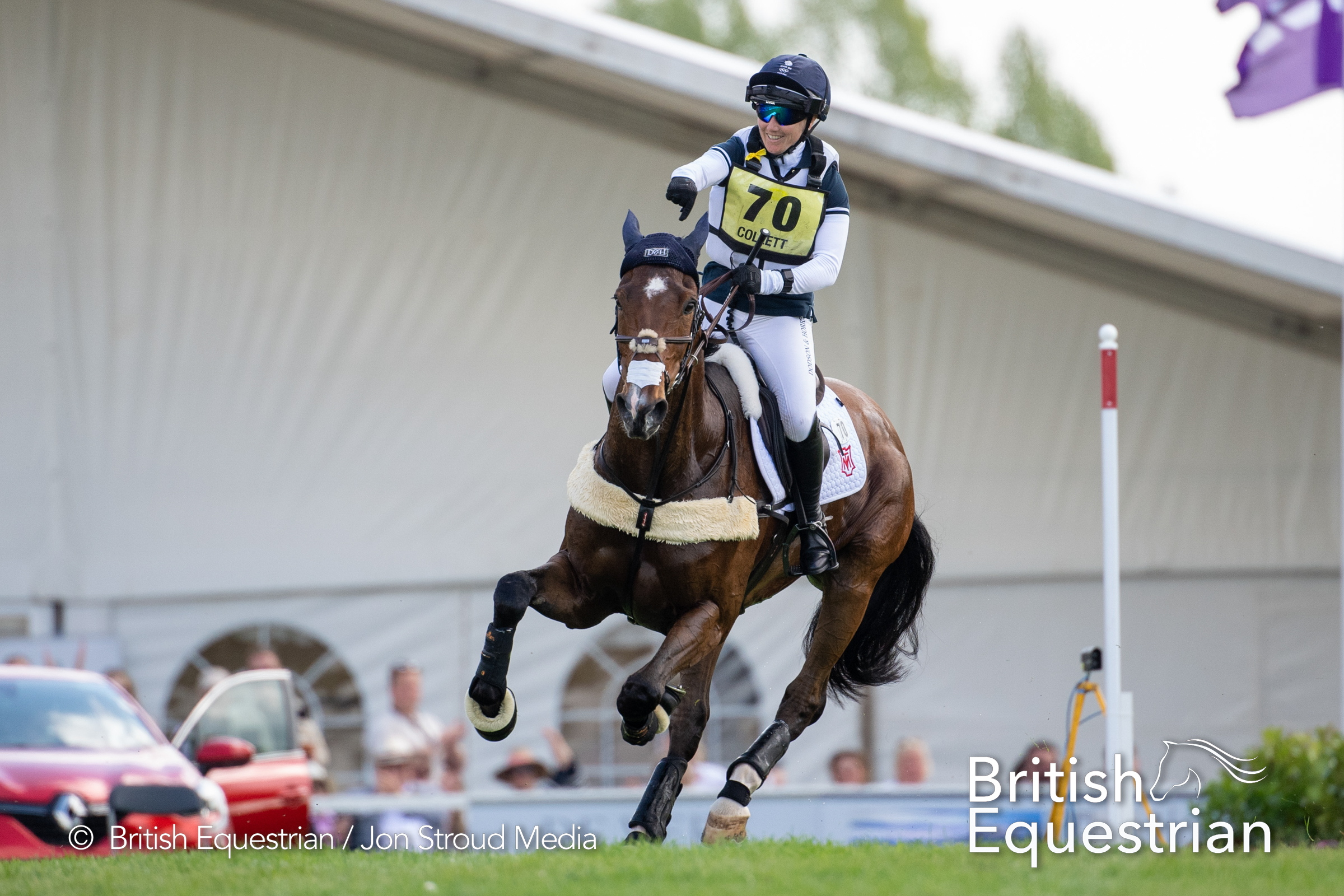 Laura Collett
Age: 33
Based in: Salperton, Gloucestershire
World ranking: 20
Laura had her call-up to the British Pony team back in 2005 with Noble Springbok, where they won team gold and individual bronze. Following this success, she was then selected to represent Britain on the Junior team in 2006 with Fernhill Sox (team gold and individual bronze), then again in 2007, where she brought home double gold with Rayef.
In 2009, Laura won the National Under-21 Championship title and was also selected to represent Britain at Young Rider level, where she earned team and individual gold titles.
After receiving her first senior squad selection in 2011 with Rayef for the FEI European Championships in Luhmühlen, she was selected for Blair European Championships in 2015 with Grand Manoeuvre. She also competed as an individual at the European Championships in Luhmühlen in 2019 with London 52.
A coveted first CCI5* victory came at Pau in 2021 with London 52, followed by the pair heading to Japan for the delayed Tokyo 2020 Olympic Games – they came home with team gold. Thoroughly on a roll, this was soon followed by them taking the Badminton Horse Trials title in May of this year.
After just missing out on a team medal at the World Championships in Pratoni last year, Laura and London 52 travelled to Luhmühlen in June 2023, where they added another CCI5* title to their collection with a personal best finishing score of 20.3.
London 52
Known as: Dan
Owners: Karen Bartlett, Keith Scott and Laura Collett
Colour: Bay
Sex: Gelding
Age: 14yrs
Height: 16.3hh
Bloodlines: Landos x Quinar
Breeder: Ocke Riewerts GER
Groom: Tilly Hughes
Dan began his competitive career in Germany as a showjumper. Laura spotted him while on a horse shopping trip in 2016, and immediately got on the phone to persuade Karen Bartlett and Keith Scott – who already had horses with her – to help her buy him. He made his eventing debut at the BE100 at Nunny, where he finished on his sub-30 dressage score – a good indicator of what was to come.
Since making his international debut in 2017, Dan has rarely finished outside the top 10. With Laura, he made his championship debut in 2019 at the European Championship in Luhmühlen, where they unfortunately parted company in the water complex on cross-country day. This was nothing more than a blip on the road to top-level success, though – they now hold three of the top five CCI5* finishing scores, thanks to wins at Les Etoiles du Pau (2020), Badminton (2022) and Luhmühlen (2023), and took home team gold at the Tokyo 2020 Olympic Games.
As a character, Dan is very shy and it took Laura a while to give him the self-confidence needed to unlock his phenomenal talent. Laura describes him as her 'horse of a lifetime' and says that she's 'the luckiest girl in the world' to be able to ride him.
Personal bests
| CCI5* dressage score | CCI5* finishing score |
| --- | --- |
| 20.3 | 20.3 |
| Luhmühlen 2023 | Luhmühlen 2023 |
---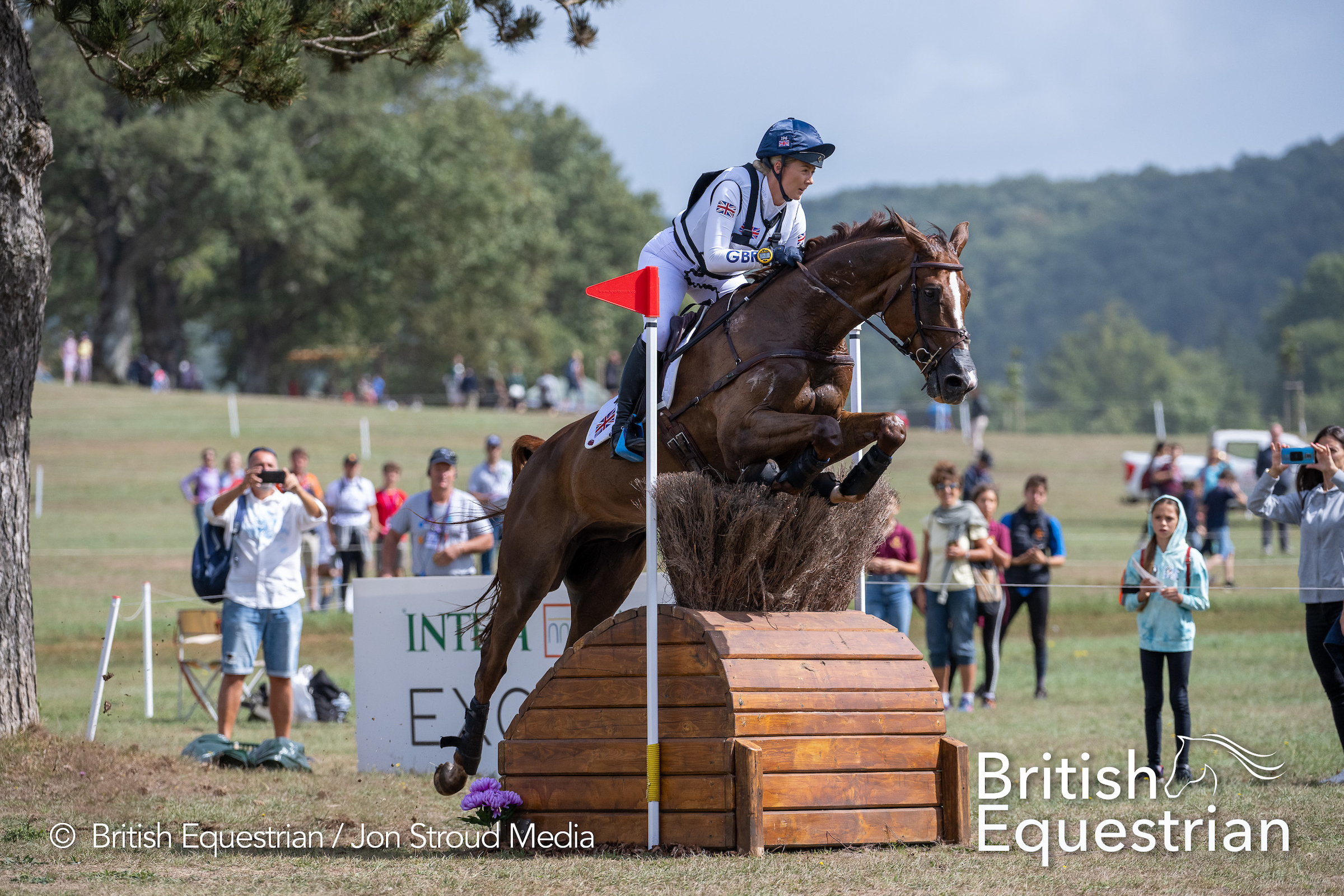 Yasmin Ingham
Age: 26
Based in: Nantwich, Cheshire (originally from the Isle of Man)
World ranking: 6
Yaz was born and brought up on the Isle of Man, where she spent her formative years as a member of the Isle of Man branch of the Pony Club, competing in many different disciplines. She also competed in working hunter showing classes for a few years, qualifying for the Royal International Horse Show and Horse of the Year Show. She received her first team call-up to compete as an individual in the Pony European Eventing Championships in Fontainebleau in 2012. This was followed by the European Championships in Arezzo, Italy the following year, where Yaz won individual and team gold.
After leaving school at 16, Yaz moved across the water to the mainland to ride for Eddie and Sue Davies and Janette Chinn at the Pewit Stud in Cheshire. Since then, she's risen through the ranks to become under-18, under-21 and under-25 National Champion. The same year as becoming U21 National Champion, she also finished fourth at the Young Rider European Championships with Rehy DJ – they finished on the same score as the bronze medallist, but missed the podium due to having the slower showjumping time.
Yaz made her CCI5* debut at Pau in 2018 riding Night Line, where they finished 16th. Rehy DJ has his turn at Pau in 2020, but was withdrawn before the second horse inspection. In 2022, Yaz took Banzai du Loir across the pond to Kentucky, where they finished second at the CCI5* behind Germany's Michael Jung and fischerChipmunk.
A senior championship call-up came last year, where Yaz and Banzai du Loir represented Great Britain as individuals at the FEI Eventing World Championship. A foot-perfect performance across the competition saw them once again go toe-to-toe with Michi and Chipmunk in the final phase, but this time it was the young guns who came out on top after the German pair rolled the final fence. At the age of just 25, Yaz had added her name to a list that includes some of the biggest stars in the sport of eventing, including Mary Gordon-Watson, Lucinda Green, Ginny Elliott, Zara Tindall and team mate Ros Canter.
Yaz wasn't done making history, though. She and Banzai headed to CHIO Aachen in June, where they became the first ever Brits to take the CCI4*-S title.
Banzai du Loir
Known as: Banzai
Owners: The Sue Davies Fund and Janette Chinn
Colour: Chestnut
Sex: Gelding
Age: 12yrs
Height: 16.2hh
Bloodlines: Nouma D'Auzay x Livarot
Breeder: Pierre Gouye FRA
Groom: Alison Bell
Banzai was born and raised in France, and joined Yaz in 2019 when he was eight years old, after being purchased by her long-time supporters, Janette Chinn and the late Sue Davies. Just a year later, they took the CCI4*-S class for eight- and nine-year olds at Burnham Market on their dressage score of 22.3. After a disjoined couple of seasons due to COVID-19, they finished their 2021 season by winning the CCI4*-L at Blenheim (ahead of Ros and Walter, who were runners-up), before Banzai made his CCI5* debut at Kentucky the following April – they finished in second with just a few cross-country and jumping time penalties on their scorecard.
At the FEI Eventing World Championship in 2022, Banzai and Yaz started their campaign with a huge personal best of 22.0 in the dressage phase, which saw them sitting in bronze medal position heading into cross-country. The talented chestnut showed all his scope across Giuseppe della Chiesa's tricky track, finishing just three seconds over the optimum time to rise into silver medal position overnight. A textbook clear round on the final day put the pressure on the leaders, Michael Jung and fischerChipmunk of Germany, who just weren't able to match their performance – the tipping of the final fence saw Banzai and Yaz lift the World Championship title on their senior championship debut.
At CHIO Aachen at the end of June, Banzai and Yaz took an early lead with a dressage score of 23.5. They dropped down the order thanks to two time faults in the showjumping, but clawed back the lead in the cross-country with a fast clear round – again finishing ahead of Michi and Chipmunk, who had to settle for second place.
Yaz says that Banzai is 'one of the most naturally talented and exciting horses [she's] ever had the privilege of riding'.
Personal bests
| Championship dressage score | Championship finishing score |
| --- | --- |
| 22.0 | 23.2 |
| Pratoni del Vivaro 2022 | Pratoni del Vivaro 2022 |
---

Tom Jackson
Age: 30
Based in: Godalming, Surrey
World ranking: 11
Born in Maidstone, Kent, Tom grew up surrounded by horses and his father was a farrier. As an active member of the Ashford Valley Pony Club, Tom dabbled in a mix of horsey sports, including tetrathlon and showjumping, but it was the adrenaline rush of cross-country – combined with family trips to Badminton – that inspired him to pursue a career in eventing. After completing his GCSEs with a sports scholarship, Tom went to work for Sasha Pemple and spent the next two years gaining experience in producing young and troublesome horses. In 2012, Tom joined Dassett Eventing, which gave him the opportunity to develop his riding while competing a string of young horses, before setting up his own yard in Kent.
Tom has represented his country at both Junior and Young Rider level, being a part of the gold medal-winning Junior team in 2011, then taking team silver and team bronze medal respectively at the Young Rider European Championships in 2013 and 2014. The next year, he took the win in the U25 CCI4*L at Bramham International with Waltham Fiddlers Find, before the pair were selected for FEI Eventing European Championship in 2015 – unfortunately, they were forced to withdraw when the horse picked up an injury.
At the beginning of the 2019 season, Tom and his partner Sabrina moved to Surrey to set up a new yard near Godalming. Being only 20 minutes away from Pippa Funnell's base means that Tom is able to benefit from her coaching expertise when the two of them can find time in their busy schedules, and Pippa is a keen supporter of Tom's at competitions.
The last 12 months have been particularly exciting for Tom, with top five results at Burghley (2022) and Badminton (2023) with the talented Capels Hollow Drift, plus his marriage to Sabrina in November.
The FEI Eventing European Championship at Haras du Pin represents Tom's senior championship debut.
Capels Hollow Drift
Known as: Walshy
Owners: Patricia Davenport, Milly Simmie and Sarah Webb
Colour: Grey
Sex: Gelding
Age: 12yrs
Height: 16.2hh
Bloodlines: Shannondale Sarco St Ghyvan x Lucky Gift
Breeder: Jeannette Glyn GBR
Groom: Chloe Whitelam
Walshy is a 12-year-old Irish Sport Horse. Mother and daughter Sarah Webb and Milly Simmie bought him as a foal from John Walsh after Milly evented his full brother, Cooley Willows Gift, with Patricia Davenport later joining as a third owner.
He began his eventing career with Georgie Campbell, winning five time in his first two years, before joining Tom's string for the start of the 2018 season when he was seven years old. The pair finished their first season together by taking the silver medal in the seven-year-old World Championship at Le Lion d'Angers. That season also included a trip to the site of this year's European Championship, Haras du Pin, where they finished 10th in the CCI1*.
Walshy made his CCI5* debut at Badminton in 2022, where he and Tom finished in 16th after picking up 10 time faults in the cross-country. Just four months later, they were runners-up at their first Burghley behind Piggy March and Vanir Kamira. This year, they returned to Badminton and finished fifth in very testing conditions, putting in a personal best in the dressage phase.
Personal Bests
| CCI5* dressage score | CCI5* finishing score |
| --- | --- |
| 28.0 | 32.5 |
| Badminton 2023 | Burghley 2022 |
---

Kitty King
Age: 40
Based in: Chippenham, Wiltshire
World ranking: 25
Kitty was the first eventing athlete to have represented Great Britain at all levels – Pony, Junior, Young Rider and Senior. Riding from an early age, her first call-up to represent Great Britain came in 1998 when she was selected for the Pony European Championships, where she brought home a team silver medal. Two years later, she was selected for the Junior Europeans and returned with a second team silver medal and a fourth place finish with Leading Edge.
Kitty was crowned the U25 British Champion in 2003, the same year she won a team gold medal at the Young Rider Europeans in Poland.
Representing Great Britain once more for her first senior call-up at the FEI European Championships at Blair Castle in 2015, she was the highest placed British competitor, taking a team silver medal on Persimmon and missing out on an individual bronze by 0.1 penalties. The following year, she was part of the British team that went to the Olympic Games in Rio, this time riding Ceylor LAN.
Kitty competed as an individual at the FEI Eventing European Championships in Luhmühlen in 2019 on Vendredi Biats and finished seventh – the highest-placed of the British riders. In 2021, the pair won team gold at the FEI Eventing European Championships in Avenches, where they finished ninth individually.
This year, they placed second at Luhmühlen CCI5*, between team mates Laura Collett with London 52 and Yaz Ingham with Rehy DJ.
Vendredi Biats
Known as: Froggy
Owners: Diana Bown, the late Sally Eyre, Samantha Wilson and Sally Lloyd-Baker
Colour: Grey
Sex: Gelding
Age: 14yrs
Bloodlines: Winningmood x Camelia de Ruelles
Breeder: Phillipe Briviois FRA
Groom: Chloe Fry
French-bred Froggy earned his name because he was born on a Friday (or 'Vendredi' in his native tongue). He was produced by Tom Carlile in France, before moving to William Fox-Pitt's yard. William soon got tired of young Froggy's habit of bucking people off, so the ride went to Kitty and they contested their first event in 2014 – they picked up 13 top-three finishes in their first two seasons together and were seventh at the British Eventing Young Horse Championships in 2015.
Froggy got his senior championship call-up for the FEI Eventing European Championship in 2019, where he and Kitty competed as individuals. They finished best of the Brits in seventh. In 2021, they were long-listed for the delayed Tokyo 2020 Olympic Games, before heading to another European Championship to take team gold and ninth individually.
In 2022, Kitty and Froggy finished seventh at Badminton. At Burghley later that year, they took the dressage lead with a personal best of 21.2, but an activated frangible device out on cross-country dropped them down the order into eventual sixth. While there was heartbreak at this year's Badminton after a fall on the cross-country course – having completed the dressage phase in second place – redemption came at Luhmühlen in June thanks to a second-place finish and a personal best CCI5* finishing score of 27.2.
Froggy's favourite things include grapes, apples, and getting covered in mud out in the field – much to the delight of his long-suffering groom, Chloe.
Personal bests
| CCI5* dressage score | CCI5* finishing score |
| --- | --- |
| 21.2 | 27.2 |
| Burghley 2022 | Luhmühlen 2023 |
---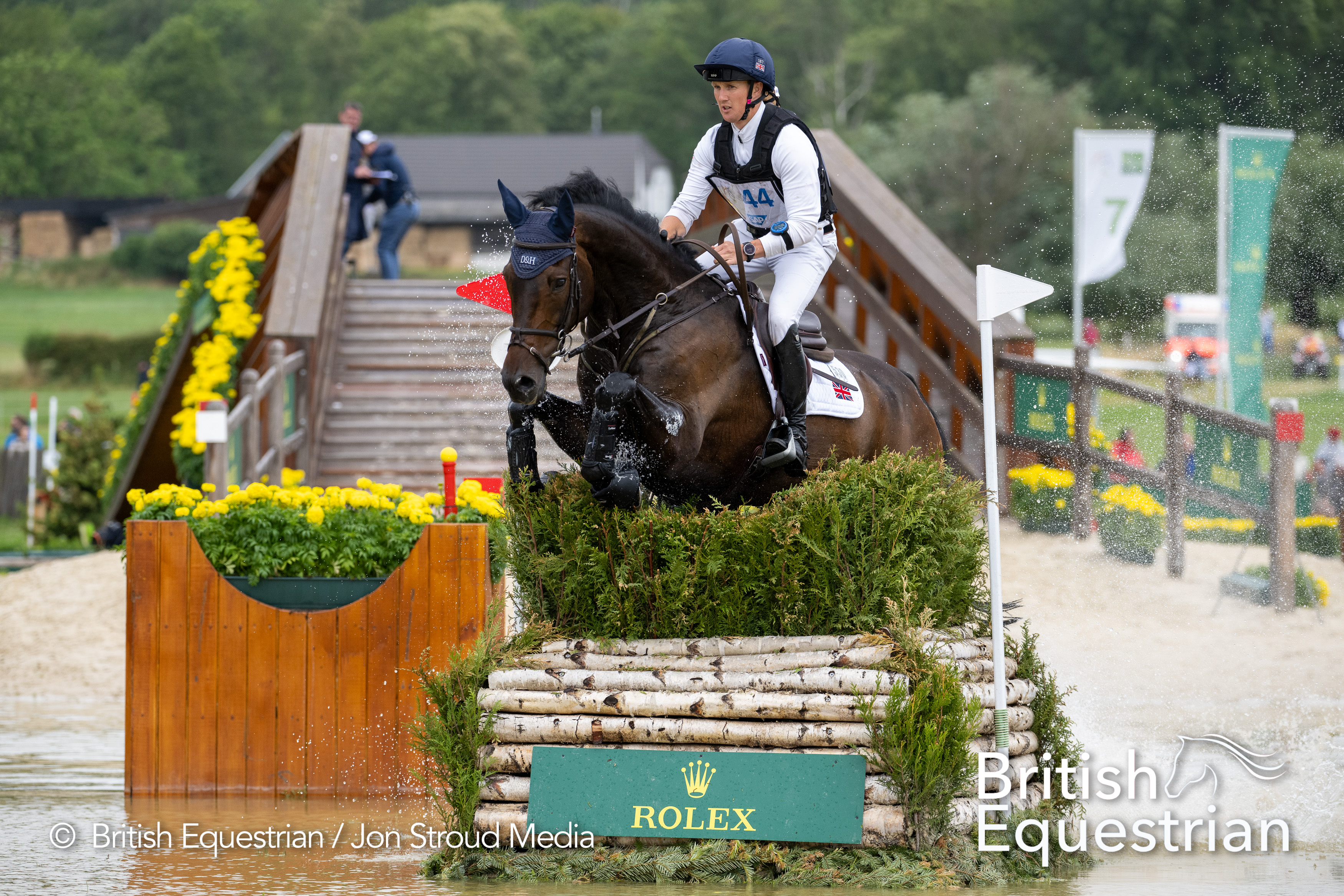 Tom McEwen
Age: 32
Based in: Stroud, Gloucestershire
Tom was born into an equestrian family – his mother was a showjumper, while his father and uncle are equine vets. He joined the VWH Pony Club as a child, competing on a number of championship teams in dressage and eventing, before moving on to representing Great Britain in eventing youth teams. Pony team gold came in 2007, followed by two team gold medals at Young Rider level in 2010 and 2011.
Tom was set to make his senior championship debut at the FEI Eventing European Championship in Malmö in 2013, but Diesel sadly failed the first horse inspection. After being short-listed for the Rio 2016 Olympic Games, it took another two years before Tom finally secured the coveted team slot – he and Toledo de Kerser got a seat on the plane to the World Equestrian Games in Tryon in 2018, where they helped the team to gold. Tom made his Olympic debut at the delayed Tokyo 2020 Olympic Games in 2021, coming home with team gold and individual silver.
After finishing third at CHIO Aachen in 2022, Tom and Toledo clocked up a second FEI Eventing World Championship in Pratoni del Vivaro last year, where they finished in 12th individually and the British team were fourth.
JL Dublin
Known as: Dubs
Owners: James and Jo Lambert and Deirdre Johnston
Colour: Dark brown
Sex: Gelding
Age: 12yrs
Height: 16.2hh
Bloodlines: Diarado x Cantano
Breeder: Volker Göttsche-Götze GER
Groom: Adam Short
Dubs was born and bred in Germany, where he was found by Nicola Wilson as a four-year-old while she was on a horse-shopping trip with James and Jo Lambert. The Lamberts purchased a half-share in Dubs, with the other half going to Deirdre Johnston, the wife of racehorse trainer Mark Johnston. The JL prefix – which was added because there was already a horse named Dublin registered with British Eventing – stands for Johnston and Lambert.
Dubs started eventing with Nicola in 2016 and notched up three wins at BE100 level in his first season. He finished second at the Young Horse Championships at Osberton as a six-year-old, before placing fifth at the seven-year-old World Championships at Le Lion d'Angers the following year.
In 2021, Dubs received his senior championship call-up when he and Nicola were selected for the FEI Eventing European Championship in Avenches. They took an early lead on the opening day of dressage with a score of 20.9, before dropping to third behind Ingrid Klimke and SAP Hale Bob OLD of Germany and team mates Ros Canter and Allstar B on day two. A thrilling cross-country phase saw them retake pole position, which they carried through the showjumping to take individual gold and help Britain to team gold.
The following year, Dubs and Nicola head to Badminton for the horse's CCI5* debut. A serious fall on the cross-country course saw Nicola unable to continue Dubs' career, so the gelding moved to Tom's yard. Their first run together was in August 2022, before finishing the season with second place at Boekelo CCI4*-L.
In April, Tom and Dubs headed across the pond to contest the Kentucky CCI5*, where they finished in second behind home favourites Tamie Smith and Mai Baum after picking up some time penalties across the country. At CHIO Aachen at the end of June, they were the two-phase leaders heading into cross-country, but an unfortunate run-out saw them drop down the order.
"I'm riding on the wave of Nicola's training and everything she's done before," said Tom at Kentucky. "Dubs is the whole package and to be able to be passed on the reins after the amazing job Nicola has done is incredible."
Personal bests
| CCI5* dressage score | CCI5* finishing score |
| --- | --- |
| 22.6 | 27.8 |
| Kentucky 2023 | Kentucky 2023 |