If you're competing at affiliated national or international level, it's vital that you understand the rules and guidance surrounding anti-doping – both for humans and equines. This section of the website focuses on the rules around human anti-doping – to find out more about equine anti-doping, click here.
Human anti-doping rules exist to protect the health and welfare of athletes at the same time as protecting the integrity of the sport itself and ensuring a level playing field. British Equestrian supports both the Federation Equestre Internationale (FEI) and UK Anti-Doping (UKAD) in its human anti-doping work.
World Anti-Doping Code and British equestrian anti-doping rules
The World Anti-Doping Agency (WADA) sets out the World Anti-Doping Code – a set of anti-doping rules under which all sports in all countries across the world must operate. It is critical that all athletes competing at both a national and international level, and their support personnel and partners, appreciate that the anti-doping system applies to them and ensure that they are fully aware of the the Code.
Responsibility for human anti-doping at international level in equestrian sport falls to the FEI. At national level, British Equestrian has its own human anti-doping rules, but the programme is managed by UKAD.
Prohibited List
The 2020 update to the WADA Prohibited List for human athletes has been released and came into force on 1 January 2020.
Human Prohibited Substance List 2020
Changes to the Human Prohibited Substance List 2020
UPDATE 4/6/19 - WADA amends anti-doping code regarding potential meat contamination:
UK Anti-Doping warning about Methylhexaneamine
How to check if your medication is permitted or not
The Global Drug Reference Online (Global DRO) provides athletes and support personnel with information about the prohibited status of specific medications, based on the current World Anti-Doping Agency (WADA) Prohibited List.
Global DRO is for checking medications, not supplements or ingredients in supplements, and so does not contain information on any dietary supplement
Checking Supplements
Informed Sport is an assurance certification programme for sports supplements. Products carrying the Informed Sport mark have been regularly tested for substances considered prohibited in sport. In addition, Informed Sport also ensures that products have been manufactured to high-quality standards. All athletes are advised to be vigilant in using any supplement because they could receive a four-year ban.
FEI Clean Sport
All information regarding international anti-doping regulations can also be found on the FEI website. The FEI have a very useful Clean Sport website, which provides information on their two anti-doping programmes – the FEI Rules for Human Athletes and the FEI Rules for Equine Athletes.
Therapeutic Use Exemption
It's essential that all athletes review any treatment they're currently taking, or are consider taking, in order to ascertain whether it involves any substance or method prohibited on the new list. If necessary, you may need to apply for a Therapeutic Use Exemption (TUE).
The Therapeutic Use Exemption process is a means by which an athlete can obtain approval to use a prescribed prohibited substance or method for the treatment of a legitimate medical condition.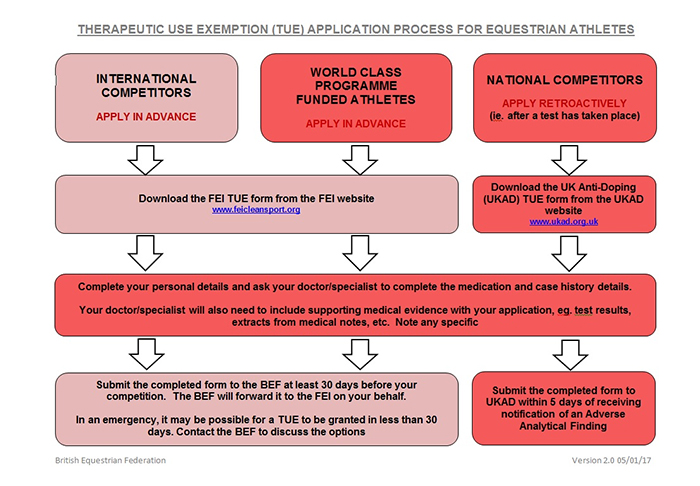 The way in which an equestrian athlete must apply varies according to the athlete's status, whether you're competing nationally or internationally, and whether or not you're a World Class-funded athlete.
When applying for a TUE, remember...
Your application will only be reviewed if it is accompanied by the necessary supporting medical evidence. Check the WADA International Standard for TUEs for details of acceptable supporting medical evidence.
The information from your doctor/specialist must demonstrate that all permissible alternatives have been tried and have not been successful in treating your condition.
The substance or method for which you are applying for a TUE must not put you in danger when competing or training
Sufficient time must be allowed for the TUE application to be received and reviewed.
Your TUE will have an expiry date. Make a note of the date and ensure that you apply for a new TUE (if still required) in plenty of time.
A TUE granted by the FEI is acceptable for national level competitions, but not the other way around.
Further information on TUEs is available via the 100% me Clean Sport App, the UKAD website or via FEI Clean Sport website.
BGA Groom Clean
Groom Clean is an interactive e-learning course from the British Grooms Association that will give you an understanding of the importance of anti-doping and controlled medication in equestrian sports.