What's the purpose of an equine passport?
The purpose of an equine passport/identification document is to ensure that equines containing substances not permitted in food producing animals, such as Phenylbutazone (bute), are kept out of the food chain. Passports also help to identify an equine, and provide information about how to contact the owner and manage equine movements in the event of a disease outbreak.
What does a compliant equine passport serve a record of?
Formal identification
Ownership
Vaccinations
Infectious disease testing
Equine anti-doping and controlled medication testing
Food consumption status (Section IX/II)
When should I get a passport for my equine?
You should apply for an equine passport within six months of birth, or by 31 December on the year of the foal's birth, whichever is later.
Please note: the requirement to register a horse is governed by the location of the PIO to whom the owner submits an application.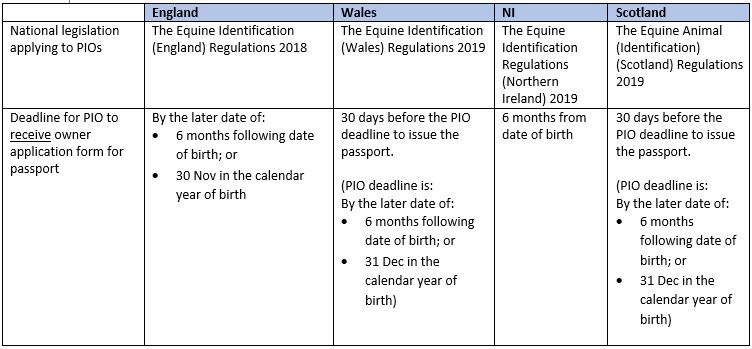 Where can I get a passport?
An equine passport may be issued by two types of Passport Issuing Organisation (PIO)...
Studbook – issue passports for registered equines with a proven pedigree
Identity only – issue passports for all other types of equine
A list of PIOs can found on Defra's website.
What is Defra's Central Equine Database (CED)?
Managed by the Equine Register on behalf of Defra, the CED was established to create a more robust and enforceable equine identification (equine passport) system after EU member states endorsed proposals for stronger regulations. The CED holds over 1.2 million equine records from the 81 UK PIOs and all equines who live in the UK are legally required to be registered. You can manage all your horse's CED records by registering for a free Digital Stable account. Not sure your horse is registerd? You can check if any horse is on the CED using the 'Chipchecker' faciiity on Equine Register's website.
All information updated by the BEF during a passport update is transferred automatically to CED.
More on the CED and Equine Register
Do all equines need a passport?
All horses, ponies and donkeys, with very few exceptions, must have a passport regardless of whether they travel or not. This is stated in the following regulations:
England: The Equine Identification (England) Regulations 2018
Scotland: The Equine Animal (Identification) (Scotland) Regulations 2019
Wales: The Equine Identification (Wales) Regulations 2019
Northern Ireland: The Equine Identification Regulations (Northern Ireland) 2019
How long does an equine passport last?
An equine passport lasts for the lifetime of the equine and will be issued by PIOs approved by the Department for Environment, Food and Rural Affairs (DEFRA).
Where should an equine passport be kept?
An equine passport must remain with the equine at all times. This includes:
at their stable or yard
when you move them
when a vet examines your equine or treats it with medication
at the time the equine is sold, when the passport must be passed on to the new owner
when the equine is used for breeding
when the equine is presented at a slaughterhouse
when the equine leaves the United Kingdom
Am I responsible for the equine's passport if I am the permanent keeper it?
Legislation states that if you're the owner or keeper with the primary responsibility for the care of an equine, you have a legal duty to ensure that the equine is correctly identified. A passport must be made available within 3 hours of request.
What do I do if my passport doesn't have a section (Section IX or in new passports, Section II) to indicate the food chain status of the equine?
If an equine's passport doesn't have a food chain status section bound within the document, you're required to contact the original PIO, or another officially approved PIO in the UK, to have one inserted and rebound into the document. If you contact a PIO that isn't your original PIO, they may not be able to insert one for you. If that isn't possible, the PIO must issue a duplicate or replacement passport in accordance with Article 29 or 32 of the 2016 EU Regulation. In either instance, the equine will be signed out of the food chain.
Can I alter a passport myself?
It is an offence to destroy or deface the passport in any way, alter any details in the passport or be in possession of what knowing it is forged. All updates regarding the owner of the equine must be made by a PIO.
What happens if the diagram page needs changing?
Only the original PIO will hold the silhouette drawing so they will need to handle any changes to this.
What happens if I lose my passport?
If you lose an equine passport from a UK PIO, it's important to contact the original PIO to obtain a duplicate passport.
If you lose an equine passport from another EU country and it's a pedigree, you can request a duplicate passport from an EU PIO. Where the passport is lost and the existing identity cannot be established by a microchip or a properly completed outline diagram, then a replacement passport must be issued by a UK PIO.
If a passport is subsequently found, you must send it back to the PIO that issued it so that it can be destroyed. If that PIO no longer exists, you should return it to the nominated successor PIO. Please see the Defra website.
What happens if my equine dies?
You should notify the original PIO within 30 days of your equine's death, and the passport should be returned with a covering letter. The passport can be returned to you once it has been invalidated.
What number can I call if I'm unsure of something?
If you have any queries, please contact the office on 02475 313 433
Can I email my passport query to you?
Yes, you can email passports@bef.co.uk
How do I complain about a passport service I haVe received?
For information on our written complaints and appeals procedure. please click here.