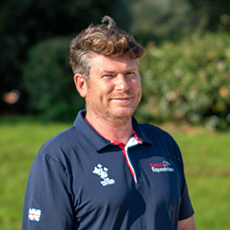 Name:

Ian Hughes

Job Title:

Team Farrier
Ian Hughes was chosen to head up the Farrier Services at the Olympic Test Event in Hong Kong in 2007 and then named as Head of Farrier Services for both the 2008 Olympics and Paralympics.
Ian spent 3 and a half weeks in Hong Kong for the Test Event, trying out the new purpose-built forge area in the new veterinary centre at Sha Tin racecourse. An estimated 240 horses arrived in Hong Kong for the Olympic and Paralympic Games for which Ian was responsible for providing a farrier service.
Ian runs a general practice in Wales, and also serves as Farrier Consultant at Ashbrook Equine Hospital in Cheshire, England, one of Britain's leading clinics. He lectures on lameness one day a week at the Veterinary College at the University of Liverpool.