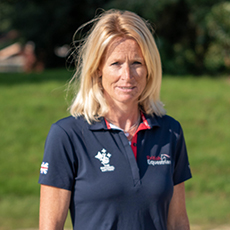 Name:

Nina Venables

Job Title:

Para Dressage Performance Coach
Nina is a British Dressage accredited coach and joined the World Class Programme in 2005.
Nina trained initially at Catherston Stud with Jennie Loriston-Clarke during the 'Dutch Gold era'. Nina then broadened her experience in Austria before setting up as a personal coach. She competed at Young Rider level and received training through BRYDS.
In 1999, Nina loaned her advanced horse, Figaro, to para-equestrian dressage competitor Deb Criddle. Coached by Nina, Deb and Figaro went on to be the first combination to hold the European, World and Paralympic (Athens) titles at the same time. Nina also coached Deb at both the Beijing Paralympic Games in 2008 and the London 2012 Paralympics, where they won Team Gold and two Individual Silver medals.
Nina was awarded the Mussabini Medal in 2012 as well as a place in the UK Coaching Hall of Fame. In 2013, she was one of 12 coaches to be selected for the UK Sport Elite Coaching Apprenticeship Programme.