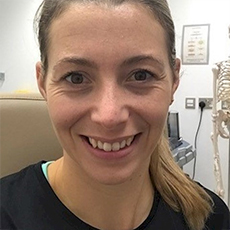 Name:

Ros Cooke

Job Title:

Human Physio
Ros qualified as a Chartered physiotherapist from the University of Birmingham in 2003 . She developed a passion for complex trauma, rehabilitation and sport, which saw her work in the NHS at Selly Oak Hospital, then the Queen Elizabeth Hospital where she became Senior Physiotherapist Team Leader for multi-trauma and outpatient gym. Alongside her NHS work, Ros developed her experience in a variety of sports, working with national age group teams for England Hockey and England Netball, as well as the Headquarters physiotherapist at World Student Games (2009 and 2011) and for Team England at the Commonwealth Games in Delhi 2010.
Following working for LOCOG at London 2012, Ros moved to work as full-time Lead Physiotherapist for England Netball at the English Institute of Sport, attending Commonwealth Games and World Cups. In 2017, Ros moved to become Senior Multisport Physiotherapist at EIS and Consultant Physiotherapist for the Football Association. Since 2018, she has continued this role at the FA, working with Senior Women Lionesses at FIFA Women's World Cup 2019, and will be supporting the team as part of Team GB at Tokyo Olympic Games this summer.
Ros holds a Masters in sports injury and rehabilitation, and is currently working on her doctorate, which looks at functional performance testing in elite female team sport athletes. Throughout Ros's career she has been passionate about seeing injury and rehabilitation as opportunities to become the best you can be, whether as an elite athlete, a weekend warrior or to be independent at home.
When Ros isn't working, she likes to go running so much that, since the arrival of her daughter in 2017, she has become a leader in running fitness and set up a local running group called Buggy Squad. She is now a regular Run Director at Maidenhead ParkRun. She enjoys challenges and this year is running both the London and Chicago marathons.