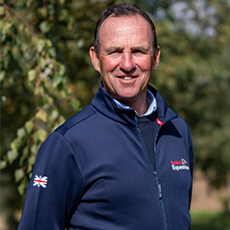 Name:

Richard Waygood MBE

Job Title:

Performance Director & Eventing Performance Manager
Richard Waygood was appointed World Class Performance Manager to the senior British dressage team in 2010 and was appointed Performance Manager to the senior eventing team at the end of 2016. To date he has been involved with supporting 23 championship medals. His military career culminated as Riding Master of the Household Calvary Mounted Regiment, based in Knightsbridge, London; where he used to plan the well-known Musical Ride and during which he was appointed MBE.
He was one of Britain's most successful military event riders in recent times, having competed at Burghley and Badminton CCI4*s and is involved with training the Team GBR CIC2* eventing team. He also has several coaching, charitable and public-speaking commitments.
Richard took over the role of Performance Director in December 2019, which he carries out in addition to being the Performance Manager for Eventing