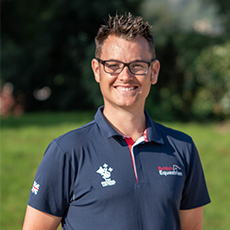 Name:

Russell Mackechnie-Guire

Job Title:

Performance Analyst
Russell has an Honours degree in Equine and Human Sports Science and specialises in horse and rider biomechanics.
Russell manages his company, Centaur Biomechanics, which specialises in horse and rider performance analysis. Russell has been working with the BEF offering performance analysis to horse and riders on the dressage, showjumping, eventing and para-equestrian dressage teams since 2006. Russell is also doing his PhD at the Royal Veterinary College's, Structure and Motion Lab. Russell will be looking at the effect that saddle position has on spinal kinematics and rider positioning and how this influences performance.