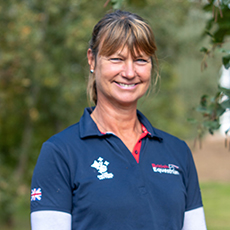 Name:

Sarah Verney

Job Title:

Eventing Pathway Manager
Sarah has been involved with the World Class Programme since 2003.
Sarah is a BHSI, a UKCC Level 3 coach and BE Accredited Trainer who rode to 4* level. She was an Armada Dish winner at Badminton in 1992 and was 11th at the European Championships in 1989. Sarah was the first person to breed embryo transfer foals from an actively competing mare and one of the foals was born while the mother, Morag, was competing at Badminton for a 12th place finish.
Sarah is also a British Eventing Technical Advisor and was Assistant Technical Delegate at Bramham in 2005 and Badminton 2009.
In 2016, Sarah was a team leader for the British Olympic Association's Ambition Programme which replicates an Olympic and Paralympic Games experience for a group of young athletes.