European Championships – Day two of dressage in Luhmühlen
Wednesday, 28 August 2019
Day two of dressage at the European Eventing Championships saw Team GBR move up from fifth to second in the table thanks to good results from Tina and Oliver. Kitty also did a very good test as an individual for Great Britain and has put herself, along with Laura who's now sitting in third, in a very strong position in the table.
The weather perked up for us today with a lot of sun, but also a nice, refreshing breeze, keeping the conditions at about 25 degrees all day. The crowds swelled and the stands were filled to capacity.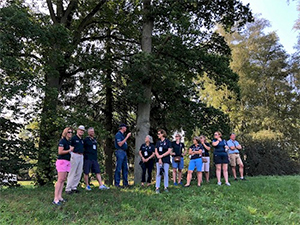 Our loyal owners walk the course ahead of tomorrow
During the day we heard the excellent news that the British team competing at the Showjumping Nations Cup leg in Gijon had finished in second place, which has meant that the last three jumping Team GBR competitions have all gone well, providing us with a Team Bronze and Olympic qualification at the European Championships, plus Ben Maher's individual silver medal, combined with a first place and a second place in the Nations Cup (Dublin and Gijon respectively). Let's hope this run of form carries over into the Nations Cup Final in Barcelona in October. I'm delighted that the challenges we seem to have moved past the challenges we faced at the beginning of the year, and we are now enjoying a productive time of great results, great team spirit and a return to form.
Back in Luhmuhlen, a lot of planning now goes into the cross-country event tomorrow, with Chef d'Equipe Richard Waygood providing everyone with their team orders. We have lots of people assigned to all sorts of roles that you probably wouldn't even have considered. Of course, I can't tell you what they are becaise we don't want the plan falling into another nations' hands! The day is going to be hot, humid, busy and tough, but on the brighter side, we are prepared, focused and totally up for the challenge. Come on Team GBR!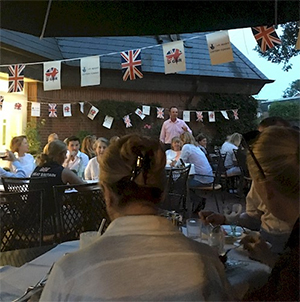 Richard Waygood gives a speech at team dinner on Friday night