Europeans Championships 2019 – Onwards to Luhmühlen
Sunday, 25 August 2019
There's no rest for the wicked as we move on seamlessly from the challenges and tribulations of Rotterdam to the Eventing European Championships in Luhmühlen, Germany.
Basking in the European summer weather, the first horse inspection went seamlessly. Our riders looked very smart in blue chinos, white shirts and gorgeous boots and belts kindly provided by Fairfax & Favor.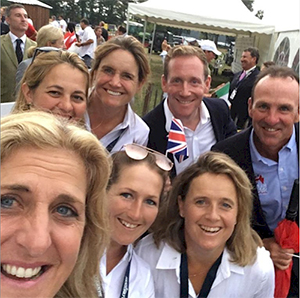 Team selfie before the opening ceremony
With all horses (and riders) pronounced sound and fit to compete, we headed out to walk the cross-country course. Mike Etherington-Smith's course does not disappoint in terms of technicality and it will certainly be one that requires boldness and accuracy. For those who are less experienced, there are a number of easier alternative routes, although I should think it unlikely our riders will use these unless necessary. Team GBR has a great draw and will be the final team to go. This helps us because we'll be able to watch experienced riders from other nations act as pathfinders, meaning we can feed back intel to our team.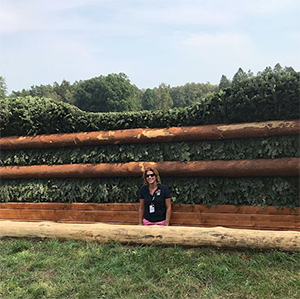 British Eventing CEO Jude Matthews gets up close with some of the cross-country fences
Yesterday was the first day of dressage and the heavens opened with thunder and lightning, making the arenas rather wet which wasn't particularly nice for Pippa, who was first to go. Pippa was only informed at the weekend that she was being called up to represent the team following the sad withdrawal of Tom McEwen, after a very minor incident at home meant that his horse, Toledo de Kerser, had to to miss this championship. Pippa's skill and experience managed to hold Majas Hope together to score a very respectable 35.4 penalties.
Next to go was Piggy who did a lovely test on Quarryquest Echo scoring 29.8. She was followed by the overnight leader, Laura Collett with London 52, who wowed the crowd with his wonderful active paces to score 25.5. I have to say that the owners of all these horses are absolutely great, fully engaged with everything that's going on and really supportive of each other. We couldn't do the sport at this level without their dedication, or that of the grooms and support staff so 'big up' to the team behind the team.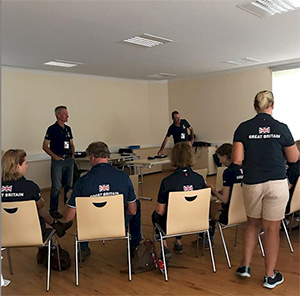 Richard Waygood and Chris Bartle give a presentation for our group of owners