Europeans Championships 2019 – Day Seven
Friday, 23 August 2019
It's been a busy day today running between arenas and other areas of the showground to get to all of the relevant bits. All three disciplines had vet inspections today and were required to trot up their horses once again in front of the ground jury. Fortunately all of our horses passed and are through to the next stages of the competition. The para-equestrian dressage riders had their final two tests that would count towards the team medal, and the top 15 dressage riders had to perform the Kur (dressage to music Freestyle) as the final part of their championship experience.
Sophie Wells was the first on in the Para Arena and, although Jorge was a little tense before he entered the arena, he soon settled into the test and she did an amazing job to keep him concentrating with a lot of distractions around and about. I was so heartened to see that Carl, Lottie, Gareth and their Chef d'Equipe Caroline had come to watch and show their support, plus I know some of the grooms from other disciplines grooms came to cheer her on.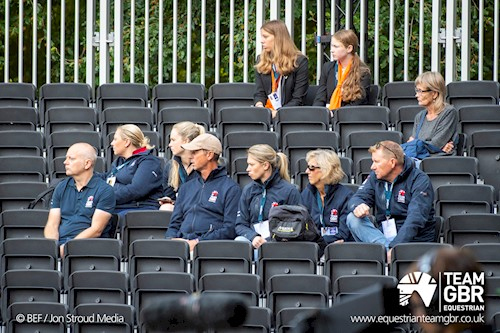 The dressage team turn out to watch Sophie Wells
After Sophie there was a gap until later in the afternoon, when we had Carl, quickly followed by Gareth, in the Rotterdam Arena to perform their freestyles. Nicky was also doing her Grade IV test in the Para Arena during the end of Carl's and start of Gareth's tests. There wasn't much else for me to do apart from run, so I watched Carl and Gareth warm up, then ran to watch Nicky warm up, then went to the Rotterdam Arena for Carl's rather explosive test, followed by running to watch Nicky do the final half of her test and congratulate her, then run back to watch the final half of Gareth's lovely test. Then there was media interviews, photos and anti-doping testing…
All-in-all, we had some great results. I'm particularly excited about Gareth achieving his third personal best (PB) here in Rotterdam – what a fairytale competition he's had, and it has been even more special to have his wife, daughter and co-owner here to share this amazing journey.
Some of our horses have now left the showground and the stables are starting to feel eerily empty. Tomorrow we have Ben and Holly jumping in the final stages of the jumping competition, plus all four para riders will perform their freestyle to music.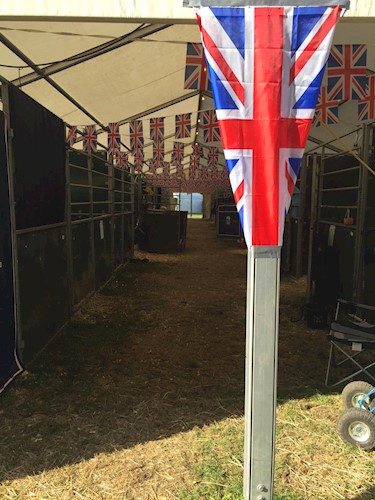 The stables are starting to look very empty...
I can't wait...