European Championships 2019 – Day Five
Thursday, 22 August 2019
It's difficult to know where to start with today's events! All three disciplines were competing and pulled off some outstanding results, and I was really proud, again, of Team GBR and its entire ensemble.
My day went as follows: jumping, para, jumping, jumping, jumping, para, para medal ceremony, dressage, dressage, dressage… celebration!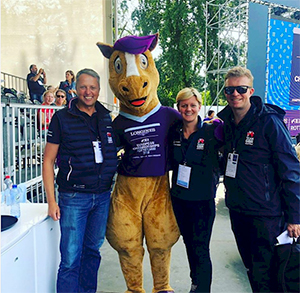 Erik, Georgina and David from the Team GBR staff with the Rotterdam mascot
Our fabulous quartet of jumping riders achieved an excellent first-round result, with a carry-over score of just an additional four penalties on top of the results from the speed class. Although we still have to jump tomorrow and add on our three top scores, we are looking strong and we'll be pulling for that gold medal and Olympic qualification. Ben Maher needs to be singled out because he and Explosion have had two clear rounds now – absolutely brilliant! However, Holly isn't far behind after a clear round today, Scott with a toe in the water for four faults, and Amanda with a very unlucky eight, they are all jumping very well.
Weaved into the timing of the jumping competition but in another arena, two of our para-equestrian dressage riders were also in action. On my arrival at the Para Arena, I went to watch our very talented Grade IV rider, Nicky, who is visually impaired, warm up. I can't even comprehend what it must be like to ride a full-on, complicated dressage test when you can't see the shape of the arena, the markers, other people, or even where you are. Added to this, Nicky's horse was very fresh and not particularly inclined to settle into an obedient, elegant form. Whatever miracle training method they employed, it seemed to work and while the test wasn't fault-free, it was quite amazing what she pulled out of the bag once in the arena.
Sophie Wells was our second para-equestrian dressage rider to go today and like always, she didn't disappoint. Her warm-up went well, although 'Jorge' was also rather bright in the very buzzy atmosphere. Sophie is an experienced professional with 29 championship medals already under her belt. Today, she won her 30th and I couldn't be more thrilled for this amazing young women.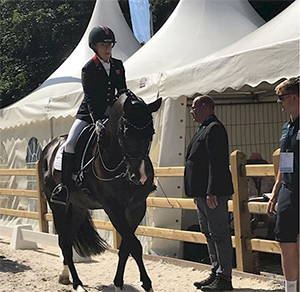 Sophie Wells enters the arena with C Fatal Attraction as groom Lewis Coppin looks on
The dressage riders were also outstanding. As ever, it was a pleasure to watch our dressage debutant Lottie Fry perform an excellent test on Dark Legend and finish up on the highly respectable score of 73.815%, which put them into second place as the scoreboard stood. Lottie is so humble, and alongside her groom, Claire, they care for Darky as though he's the love of their lives and he adores them as much as they do him.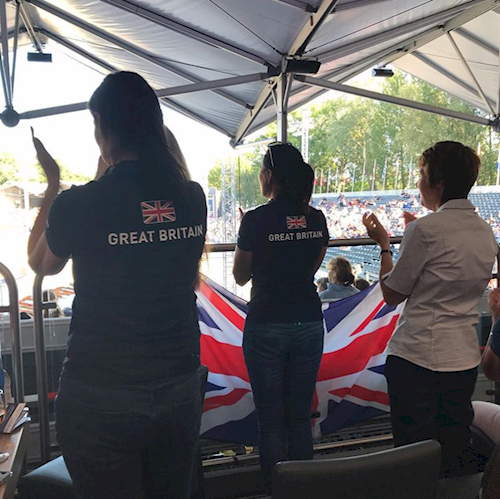 The owners and support team cheer on Lottie Fry and Dark Legend.
Carl also did a great test with just a mistake in the one-time changes, which cost him a few points. Gareth was on fire, though, scoring a personal best and wowing the crowd with a light, fluid and accurate test that should be used as a blueprint for horse and rider harmony and poise. At the end of an electric evening, Lottie finished in 17th place, Carl in nineth and Gareth in seventh. From these placings, both Carl and Gareth will move through to the Freestyle on Saturday and, who knows, Lottie may also get the chance if two others pull out.