European Championships 2019 – Day Four
Tuesday, 20 August 2019
Well, we had a great dinner last night to celebrate the achievements of the Team GBR dressage team. Of course, the celebrations were shadowed by the huge sadness surrounding Charlotte and Freestyle's elimination, but you can't take away from all of them the performances and percentages that they achieved. If there is a time to celebrate strength and depth within our noble sport, then that is now.
Today is another day and the focus is on the Team GBR para-equestrian dressage team, with Georgia and Mari competing this morning in their first ever international championships. Georgia went first with the lovely Midnight and did an excellent and virtually foot-perfect Grade II test to earn her a silver medal. Georgia is coached by Sophie Wells (that's the Sophie Wells with an MBE and 29 medals!) and you can tell this by the level of precision and excellence in the execution of the test – a trademark of Sophie.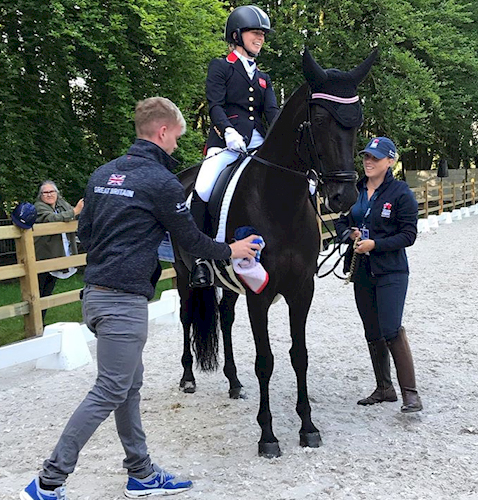 Georgia Wilson with coach Sophie Wells and groom Lewis Coppin
Mari had a great Grade I test with a slightly sparky Sky O'Hara and was delighted to have achieved over 70%. She's earned her place in the Freestyle later in the week. Tomorrow we have both Nicky and Sophie competing in the Grade IV and Grade V classes respectively, and from there we will get the team results. It would be fabulous if we could contest a team medal given that our squad has three championship debutants on it, and you can bet that we will give it our best shot!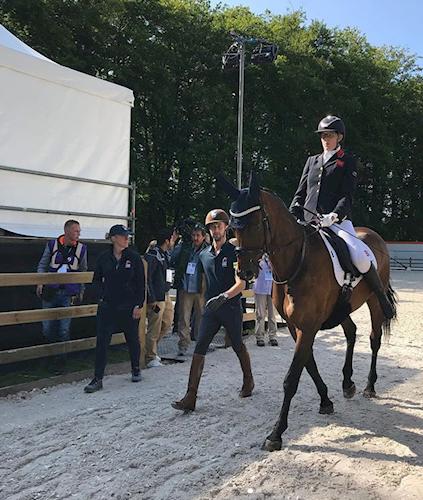 Mari enters the arena with coach Rob Waine
Following this was the start of the jumping competition with the Table C speed class, where all four of our riders jump against the clock. The lowest three time scores (with fences down converted to seconds instead of penalties) are added together, a coefficient is applied, and the result is then the basis for the scoring tomorrow and on Friday for the team rounds. A similar process takes place for the individual competition later in the week. Got it? Easy!
Amanda and Holly both jumped great rounds but ended up with a fence down each, adding four seconds onto their times. I am so proud of these girls because they've both had nasty falls recently, leaving them with some fractures and other injuries, yet they are tough, resilient and just want to get on with the job in hand.
Scott didn't have the easiest round and I have no doubt he'll be disappointed with faults at two fences, but the team competition could be the perfect place for him to redeem himself.
Last to compete for team was Ben and Explosion W. They were foot-perfect, light and controlled, and an utter pleasure to watch. All in all, what we should all aspire to be!